Friday, 22 May 2015 16:21
Take a pit stop this Bank Holiday & refuel the family with our new Mix n Max deal. - 2 megabites, 4 pieces of chicken, 4 large chips and 1.5litres of Pepsi Max instore for only £12.85.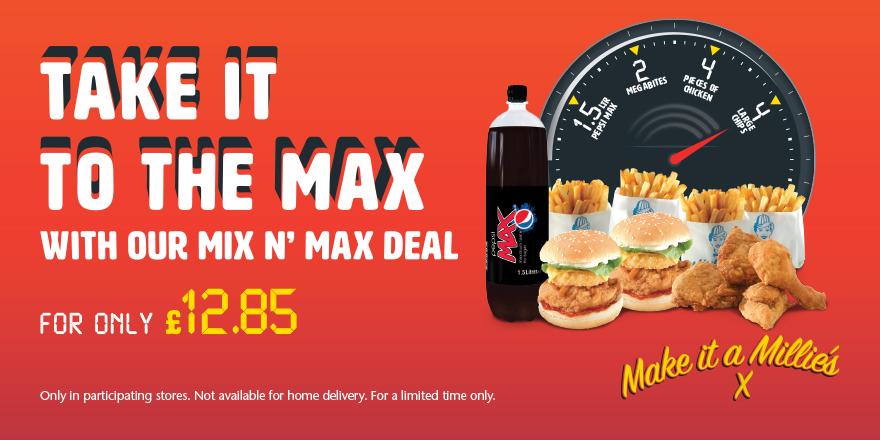 Tuesday, 10 February 2015 18:25
Did you know that local delivery is free on missmillies.com? And if you sign up for our email & SMS messages, we'll send you some offers you can use online as well x
Tuesday, 10 February 2015 18:22
Right now it's double the fun at Miss Millie's because we're offering 'Buy One Get One Free' on 2 pieces & chips, available in store until 28th February.
That's four succulent pieces of fresh chicken, covered in our secret recipe coating, and two regular chips for just £3.85. Why wait, get down to your local Millie's today x
Wednesday, 03 December 2014 08:46
As many of you may know, the Miss Millie's on Whiteladies Road in Clifton, Bristol, has been serving a trial gluten-free menu on the first Saturday of every month for some time now.
Sadly, it is an option that we have decided we will be unable to continue on a permanent basis, and so Saturday December 6th will be the final gluten-free menu day at the store.
We're sorry for any disappointment that we can't continue the gluten-free experiment beyond that.
Monday, 13 October 2014 16:41
Miss Millie's has vacancies for a staff member & delivery driver at the Wells Rd, Knowle store. Why not come & work for Trudie? - she's lovely!
<<

Start

<

Prev

1

2 3 Next > End >>


Page 1 of 3